:: Web sites featured in the book ::

A Narrative in Three Voices
Rebecca Akin

Human Agency, Social Action and Classroom Practices
Vanessa Brown
The Portfolio Graduation Process at Mission Hill School
Heidi Lyne
A Friend of Their Minds: Capitalizing on the Oral Tradition of My African American Students
Yvonne Divans Hutchinson
Pio Pico Researchers Participatory Action Research
Emily Wolk

About the book
Going Public With Our Teaching: An Anthology of Practice is a collection of work produced by teachers nationwide who have made teacher inquiry and research a focus of their work. The volume addresses key problems of practice across grade levels and diverse contexts, and captures how teachers have come to new understandings about these problems. The collection reflects the diversity of styles and genres in which teachers present their work today, including new forms of representation that use video, audio, and the Internet to make teaching public and broadly accessible.
This collection grows out of our experiences in designing and leading the K–12 program of the Carnegie Academy for the Scholarship of Teaching (CASTL). Under the auspices of The Carnegie Foundation for the Advancement of Teaching, the K–12 program of CASTL, along with the CASTL higher education program, launched in 1997, was established in order to enhance the practice and profession of teaching and to bring to teaching the recognition and reward afforded to other forms of scholarly work. As Lee Shulman, the president of the Carnegie Foundation, argues, teachers make their examinations public and subject them to critical review by peers, and when others are able to build upon those examinations to advance their own work, teachers are meeting many of the same criteria that are used to distinguish scholarly work in many other disciplines.
Going Public With Our Teaching: An Anthology of Practice
Thomas Hatch, Dilruba Ahmed, Ann Lieberman, Deborah Faigenbaum, Melissa Eiler White, and Desiree H. Pointer Mace, Editors
Teachers College Press
328 Pages
May 2005
ISBN: 0807745898
$24.95
Order online
GET the BOOK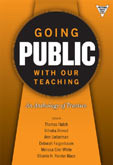 Get the book from
Teachers College Press
"Teaching is like dry ice; it evaporates at room temperature unless gifted and courageous teachers like those writing in this volume take the initiative to go public. Bravo for this superb publication of the scholarship of teaching."
– Lee Shulman
President, The Carnegie Foundation for the Advancement of Teaching
"Using inspiring stories and innovative accompanying websites, this engaging book is certain to add to the ongoing conversation on education reform and the pivotal place of teachers in that conversation."
– Sonia Nieto
University of Massachusetts, Amherst
"Finally, a much-needed and inspiring book that describes the context, culture, and complexities of good teaching. The authors have captured the essence of teaching as an intellectually rigorous, reflective, and humane act devoted to the achievement of all children."
– Jacqueline Jordan Irvine
Candler Professor of Urban Education, Emory University